Resume Rescue
Does your resume need rescuing?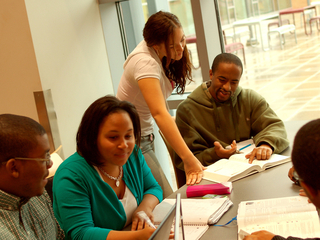 Does your resume need rescuing? Stop by the Career Center tomorrow, Friday, January 31st or on Tuesday, February 4th, from 10 am to 4 pm to get pointers and tips on how to polish your resume and get it ready for the Spring Career and Internship Fair! The entire Career Center staff will be on hand to help students looking for resume help, as well as employer volunteers that can give you the inside scoop on what they're looking for in a successful resume. You can find the list of employer volunteers for Friday here and for Tuesday here.
In the meantime, here are some tips on how to draft that first resume, or update an old one.
Don't use a template. Templates are hard to maneuver and change to fit your needs, it's best if you start with a blank document and format your resume yourself.

Lead with your education. As students (or recent graduates) your greatest experience indicator is your education. Employers want to know: where you went to school, what your degree is (BA, BS, MA, MPP, etc.) and what your field of interest is (so your major and minor), what your GPA is, and finally, when you expect to graduate from school (don't worry if you don't know the exact date, it's meant to be an estimate, you can always update your resume later with better information when you get it).

Follow up with your skills. Your skills section is a list of the skills you can actively demonstrate on the job. Do you have computer skills? Lab skills? Do you know any foreign languages? What about your interpersonal skills? Don't be afraid to use subsections to organize your skills!

Don't forget your previous experience. Your experience can be anything that you've done. Whether it's work, volunteering, interning, or in-class projects, if you've done it, you can include it. Have you written an interesting research paper? Built a robot? Conducted a cool experiment? Include it! These are things employers want to know about.

Have a date column on the right-hand side of the page. When you write out the dates for all of your experiences, awards, education, and anything else you include on your resume, make sure they all line up on the side of the page in one column. That way, it's easy for an employer to read down the side and count how many years of experience you have in your field of interest.

Check the verbs in your bullet points. Lead with an action verb for all of your bullet points, and then make sure it's in past tense for experiences that you no longer participate in or present tense for experiences that are ongoing. Remember to stay in first person!

Answer all the W questions when writing your bullet points. What did you do? Why? Who did you work with (don't name drop, but be sure to mention the title of any supervisors you worked under or teammates you worked with)? What did you accomplish? Quantify as much as you can, like how many teammates you worked with or if you boosted sales by a certain amount.

Utilize the Career Center. The Career Center is always available for students who are unsure or want another set of eyes to look at their resume. Drop-in hours are from 2 pm to 4 pm Mondays through Thursdays and from noon to 4 pm on Fridays. We also have extensive materials available online, including the very helpful Career Guide. The Career Guide has plenty of sample resumes, a sample cover letter, how to search for a job, how to build a federal resume, how to master the interview, and so much more. All available for free online at the Career Center Website.
Rescue your resume this Friday or next Tuesday at the Career Center in Math/Psychology 201! Follow these beginner tips and you'll be on your way to a resume that stands out at the Career Fair, next Friday, February 7th.