UMBC Career Launch Summer Series, June 10-July 8
Open to ALL students & alumni!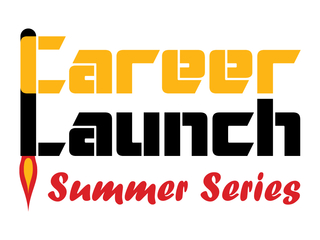 Join the UMBC Career Center for a 4-week, FREE virtual series designed to focus and invigorate your job or internship search. 
Whether you're looking for full-time work as a Class of 2020 graduate, seeking an internship, or simply exploring your career options, you can make the most of this time to prepare yourself for success in the era of COVID-19.
Participants are NOT required to attend every event. We encourage you to select the programs that are most relevant to you.
View the full schedule of events
(NOTE: Attending all events is NOT required!)

BENEFITS:
Get tips and strategies as you learn how to identify your most valuable career assets, plan your search, make connections through LinkedIn and networking, get inside the mind of a hiring manager, and succeed in internships and/or virtual work environments.
Connect with employers, alumni, and Career Center staff who can share perspectives on putting your best foot forward and the current state of hiring.
Stay on track with accountability check-ins (optional): Need a little extra motivation, or just a place to connect? Join our virtual check-ins. There's no pressure and no preparation required. Simply log in to briefly report your successes ("A recruiter emailed me back today!"), vent your frustrations ("Is anybody really reading my resume?"), and plan your next step.

Make the most of your summer and register today!
Questions? Email Kacie Lawrence, Associate Director of Internships & Employment, at klawrence@umbc.edu.