Announcing UMBC Intern Week!
Stay tuned for insider tips and exciting opportunities
October 11, 2020 10:30 PM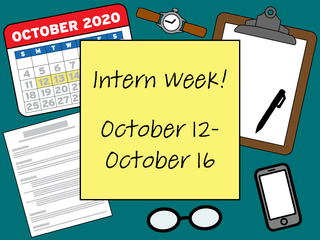 You've probably heard it before: Internships are crucial to landing a job after college. So, how do you find that perfect internship to build your experience, expand your connections, and take you one step closer to your future career... even during a pandemic?
Good news... this week (October 12-16) is UMBC Intern Week! The Career Center is here to give you the scoop on landing the internship of your dreams. 
Here's how to engage:
Follow us here on myUMBC for insider tips on the internship search process
Follow us on Twitter for exciting, currently available internship opportunities, posted all week
Join us for How to Land Your Dream Internship on Wednesday, October 14, 12-12:45, including insights from successful past UMBC interns
Take the advice of outstanding UMBC intern Liam on why internships are so essential to your future marketability and networking potential (video):
"During my internship, I got to meet many of the company's top execs, including the CEO. I met so many people that my LinkedIn connections quintupled over the summer." 
COVID-19 may have altered or delayed your internship plans, but now is a great time to start looking to the future and your path toward an amazing career.
Questions? Contact the Career Center's Internships & Employment Team at internships@umbc.edu.