Create your MAJOR Roadmap
October 21 / 3-4pm
Next steps in the Major Exploration/Decision Process
Pre-Register/Join Webex Event Here!
**Attendees will receive a free Major Event t-shirt and sticker (sent directly in the mail)**
"I'm ready to declare my major, but how do I do that?"
"What classes can I take to help me narrow down my major choice?"
"What degree planning tools can I use to plan out my courses?"
"I found a major I like, but how to do I talk to my parents about my decision?"
Join Deanna Cerquetti from the Office for Academic & Pre-Professional Advising for this interactive workshop on possible next steps in the major exploration/decision-making process.
By participating in this workshop you will:
reflect on your interests, strengths and weaknesses
reflect on your graduation timeline
Gain confidence and have the tools to take ownership of your academic path at UMBC
---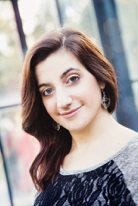 Deanna Cerquetti is a Ph.D. candidate in UMBC's Language, Literacy and Culture program and has held various roles at UMBC throughout the past ten years. Deanna completed her B.A. in Psychology and Spanish language at Notre Dame of Maryland University and received her M.A. in Intercultural Communication (concentration Hispanic Studies) from UMBC. She's a former adjunct professor for the Spanish department and is also very involved in shared governance at UMBC through the Graduate Student Association. Deanna finds passion in advocating for students as well as connecting them to resources so they can get the support they need to be successful.