November 16 / 10-11am / UC 312
Join our keynote speaker, entrepreneur Markus Proctor, and a panel of other alumni, as they share how they blended their unique passions/interests with their academic pathways, leading them to the careers they hold today.
Come away with an understanding that not all major choices lead to a direct career path -sometimes your major choice will lead you on a journey you never expected.
You may be interested in this program if…
you want to commit to a major, but are concerned it will limit your career opportunities
you'd like insight into how to navigate the career world post graduation
you want to learn about how to pursue a career in business
you want to network with young UMBC alumni
Keynote Speaker – Markus Proctor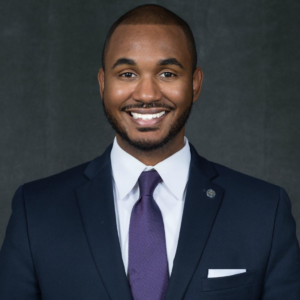 As a young alumnus, Markus has a wealth of entrepreneurial experience, specifically, as it relates to technology, beginning as an undergraduate at UMBC when he founded his own company, EduPal, Inc. Today, he serves as the Director of Technology & Information Security at the American Road & Transportation Builders Association.
Throughout his diverse career trajectory, Markus has learned how to adopt a "systems" approach to gathering multiple perspectives from different disciplinary backgrounds as a way to understand their complexity better. He also has learned how to combine empathy with a data-driven approach to problem-solving instead of an assumption-driven approach.
Since graduating from UMBC in 2016, Markus earned his Master's at Georgetown University in Technology Management and a Project Management Professional (PMP) Certification.
Other past employment/business ventures have included:
Founder & Executive Director, Innovators of Progress
Board Member, Mid-Atlantic Gigabit Innovation Collaboratory (MAGIC)
Founder, Venti
Mentor, Techstars DC
5x NASA Intern
Below are some fast facts about Markus' time as a UMBC student:
UMBC Major/Pathway Name: Interdisciplinary Studies (currently Individualized Studies) – Technology Entrepreneurship & Organizational Management
What made you decide to pursue INDS: At the time, it was the most pragmatic yet common sense approach to achieve my academic ambition of leveraging technology creation for new venture development. I did not want my four years to be a list-checking exercise.
Favorite Class at UMBC: The International Field Research (IFR) Program through HAPP. This class allowed me to learn various data collection and analysis methodologies in non-lab environments. Though we learned the techniques in the classroom, we performed them (in practice) in Switzerland for about a week. This class transformed my understanding of how seemingly similar cultures experience and perceive issues that we as Entrepreneurs try to address.
Favorite Place to Hang out on Campus: It was the staff lounge within the INDS office. We'd have incredible conversations brainstorming solutions for the world's toughest problems, and they had free coffee!
UMBC Activities/Organizations: I briefly participated in the National Society of Black Engineers (NSBE), INDS Club, and the Kinetic Sculpture Race organized by professor McAlpine.
Check out a clip of Markus speaking on Entrepreneurship!
---
2022 Panelists
Michael Berardi
Current Employment: OCA Mocha, Co-Founder & General Manager
Class of 2019, Media & Communication Studies
Hometown: Silver Spring, MD
Michael Berardi is an Arbutus resident focused on community development in Southwest Baltimore County. As a student he worked with a team to develop the concept of OCA Mocha, a community center and coffee shop focused on bringing people together through the sharing of space and artistic expression. He now serves as the General Manager of OCA Mocha, as well as a board member of the Arbutus Arts Festival.
Robin Lee
Current Employment: Executive Director of Baltimore Homecoming
Class of 2013, Visual Arts- Art History / Media & Communication Studies
Hometown: Olney, Maryland
Prior to joining Baltimore Homecoming, Robbin produced hundreds of events for non-profit groups in Baltimore and DC such as Maryland Art Place, The Phillips Collection, and Capitol Riverfront BID, and directed Emporiyum – voted DC and Baltimore's best food event in 2014 and 2015. Robbin joined the founding Baltimore Homecoming team in 2017 and was appointed executive director in 2020. Robbin currently serves on the UMBC Alumni Association Board of Directors and the advisory board for Business Volunteers of Maryland. She is a founder of the Baltimore Chapter of the National Association of Asian American Professionals (NAAAP).
Dale Gough
Current Employment: Director of Foreign Credentials Service of America
Class of 1970, American Studies
Hometown: Arbutus, MD
Dale grew up on Poplar Ave, just down the road from UMBC. After graduation, he enlisted in the Army, Military Intelligence and was stationed in Panama until 1973. His previous employment includes directing International Admissions at University of Maryland, College Park (1974-1991) and serving as the Director of International Education Services for the American Association of Collegiate Registrars and Admission Officers in Washington DC (1991-2016). He currently lives in Catonsville with his wife (with whom he shares a daughter, also a UMBC graduate!).
Natalie Brianas
Current Employment: U.S. Naval Academy Alumni Association & Foundation
Class of 2020, Interdisciplinary Studies
Hometown: Edgewater, MD
Natalie is the Executive Director of Donor Relations and Stewardship at the U.S. Naval Academy Alumni Association and Foundation, a separate 501(c)(3) supporting one of the nation's five service academies located in Annapolis, MD. She has worked in higher education development for over 11 years, primarily in corporate and foundation relations roles at both the U.S. Naval Academy Foundation, as well as UMBC. Her current role is charged with leading impact reporting, donor communications and engagement, recognition and executive acknowledgements for the Foundation. Natalie holds an MBA from Loyola University Maryland, concentrated in data analytics. She resides in Edgewater, MD with her husband, son and cat.
Cortney Elick
Current Employment: Doctoral Student at NDMU / Operation Support Specialist at ATI Physical Therapy
Class of 2022, Individualized Study: Rehabilitation of Persons with Limb Loss
Hometown: Hartford County, MD
Cortney is a doctoral student at Notre Dame of Maryland studying Occupational Therapy. During her undergraduate experience, she studied the population of amputees and conducted research on phantom limb pain. Cortney is preparing to expand upon this research in her doctorate program. Cortney works as a rehabilitation technician part-time while she is a student allowing her to grow her clinical experience. She aspires to become a therapist that enables those who have been effected by amputation as well as other debilitating conditions.