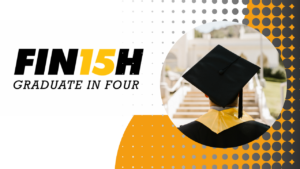 Finish15 is UMBC's commitment to ensuring students persist in their studies and graduate on time. Students who finish 15 credits per semester or 30 credits per year remain on track to complete their degree within four years. It's not just about graduating fast, however: it's also about graduating. Recent studies at UMBC have shown that students who take 15 credits in their third semester are more likely to remain enrolled by their fifth semester — setting them up for future success!
The benefits of Finish15 are far-reaching. By staying on track and completing your degree on time, you:
Lower your overall tuition/educational expenses.
Lower your student loan debt.
Maximize your financial aid by meeting state scholarship and other financial aid degree progress requirements.
Fast-track your path to employment/graduate school.
Establish early earnings & savings as opposed to paying tuition.
Generally, students who register for and complete at least 15 credits per semester (or 30 credits per year) are well-positioned to graduate in four years. Below are additional recommendations for ensuring you are able to stay on track for a four-year graduation.
Review the recommended four-year academic pathway for your degree program.
In consultation with your academic advisor, develop a four-year, individualized degree plan. Plan to complete English composition and a college-level mathematics course within your first two semesters.
Review your degree audit in myUMBC regularly to monitor your progress toward degree completion.
Meet with your academic advisor early and often to review your degree plan and status.
We recognize completing 15 credits per semester is not for everyone. There are lots of paths to graduation. Depending on your individual circumstances (i.e., work, academic preparation, etc.), you may want to consider some of these alternate strategies:
Simplify your academic plan. Keep in mind, dual-majors and dual degrees may significantly extend your time to degree.
Work closely with your academic advisor to develop a customized degree plan that ensures your greatest success in the most efficient manner.
Finish15 by the Numbers